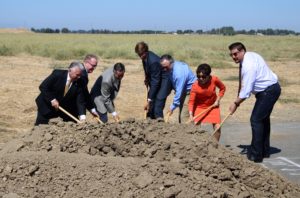 The day finally arrived!!
This morning I joined Congresswoman Doris Matsui, CalTrans officials, Sacramento County DOT staff, our own Sacramento County Economic Development executives and many property owners and investors who, like me, have been very patient for the past 25 years. That's because with a bit of understandable fanfare we finally celebrated commencement of the Metro Air Parkway / I-5 Interchange project. See groundbreaking event program for more information.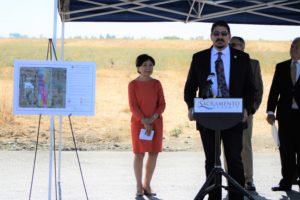 This critical piece of infrastructure will provide the 1,900 acres north of I-5 and immediately east of SMF with direct access on and off of the interstate. It will serve a growing office/light industrial area that at buildout will be home to nearly 40,000 jobs. Today's groundbreaking also means large big rig traffic will be rerouted to stay off of local roadways like Bayou and Del Paso Road, thereby easing congestion for my constituents living in the Westlake community and other neighborhoods west of I-5.
But of course the best part of today's event . . . . . I had the opportunity to operate the ceremonial frontend loader!!!