On June 16, 2015, the Board of Supervisors approved the County's 2015/16 Recommended Budget which directed funding to several key social service programs: homeless services, health care for undocumented immigrants, mental health, and funding a new multi-disciplinary initiative to reduce disproportional African-American child deaths.
Supervisor Serna said these investments are necessary and designed to make the Sacramento community safer and healthier. "Enhanced services, for example, will improve the lives of our most vulnerable residents while helping to reduce pressure on our hospital systems, jail, and probation systems," he adds.
An important issue for Supervisor Serna was the restoration of health care for undocumented immigrants. Up to 3,000 Sacramento residents who do not qualify for any State or Federal health program, are 19-64 years of age, and live at or below 138% of the Federal Poverty Level will now be served.  Read more.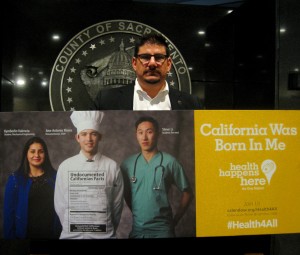 Read: Sacramento County approves health care for undocumented immigrants, The Sacramento Bee, June 16, 2015