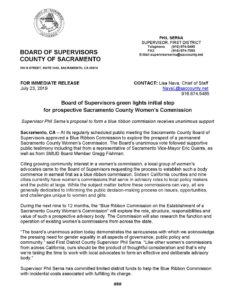 Update: visit the Blue Ribbon Commission on the Establishment of a Sacramento County Women's Commission's website here.
At its regularly scheduled public meeting today, the Sacramento County Board of Supervisors voted unanimously to adopt a resolution introduced by Supervisor Serna to form a Blue Ribbon Commission to explore the prospect of a permanent Sacramento County Women's Commission. Sixteen California counties and nine cities currently have women's commissions that serve in advisory roles to local policy makers and the public at large. Read press release for more details.
Read Sacramento for Women and Girls press release.
Updated August 7, 2019:  What challenges do women in Sacramento County face? New commission may look for answers, The Sacramento Bee, August 7, 2019