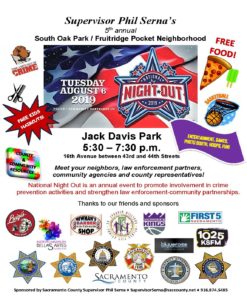 National Night Out is an annual event to promote involvement in crime prevention activities and strengthen law enforcement-community partnerships.
For the fifth consecutive year, Supervisor Serna is hosting a National Night Out event on Tuesday, August 6 at Jack Davis Park in the South Oak Park – Fruitridge Pocket neighborhood of Sacramento.
Guests and residents will be entertained by youth singers and folklorico, jazz, pom dance and Zumba performances. Other activities include free kids haircuts by Newman's Cali Fadez Barber Shop, Sacramento Kings junior coaches will "activate" the beautiful Kings basketball court for some hoops fun, Probation will lead bean bag toss games and more, Next Move Family Shelter will staff the Kids Zone, KSFM 102.5's Street Team will bring a photo booth courtesy of First 5 Sacramento and McGruff the Crime Dog will make a special appearance along with some other surprises. Cold water, Luigi's pizza and ice cream pops provided by St. Paul Baptist Church will be served.
See you there!