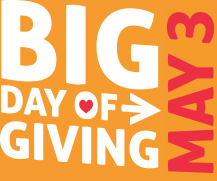 Starting at midnight on May 3rd, our community will come together once again for the BIG Day of Giving – a 24 hour giving challenge to support  local nonprofits that make the Sacramento region the place we call home.  In its third year, the BIG Day of Giving has raised nearly $9 million for nonprofits serving our region.
Located in District 1, Stanford Settlement is a recognized focal point in the north area for social services including after school groups and summer day camp for children, a teen center for youth, and a comprehensive senior center just to name a few.  The contributions of Stanford Settlement to the health and well being of the residents and the neighborhood are tremendous.  In recognition of Sister Jeanne Felion's 40 years of service as the agency's executive director, Supervisor Serna pledged to match up to $20,000 of donations made to Stanford Settlement on the BIG Day of Giving. Read press release.
Watch video about Stanford Settlement and the BIG Day of Giving.