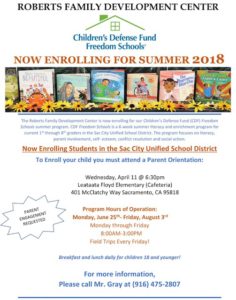 The Roberts Family Development Center is now enrolling current 1st through 8th graders in the Sacramento City Unified School District for their Children's Defense Fund Freedom Schools summer program. This six-week summer literacy and enrichment program focuses on parent involvement, self- esteem, conflict resolution and social action and ultimately fosters an "I Can Make a Difference" attitude in the young scholars served.  Program runs from June 25 – August 3.
IMPORTANT: To enroll your child, parents must attend an orientation:
Wednesday, April 11 @ 6:30 p.m.
Leataata Floyd Elementary School cafeteria
401 McClatchy Way, Sacramento 95818
For more information call Elliot Davis, Program Director at 916-646-6631 or visit online.