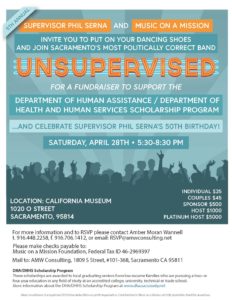 It's that time of year again!  Don't miss my Fifth Annual UnSupervised DHA/DHHS Scholarship Benefit Dance Party at the California Museum on Saturday, April 28, 2018.
Why? To help deserving, local college-bound young people reach their goals of higher education.
Need more reasons to go?
Enjoy some new and improved R&B/Motown grooves; and . . .   I'm turning 50 years old, and need all the moral support I can get. 
See details in flyer.  Hope to see you there!
-Phil
——————————————————————————————
About the DHA/DHHS Scholarship Program:
The Sacramento County Departments of Human Assistance (DHA) and Health and Human Services (DHHS) Scholarship Program was created in 2000 to assist local graduating seniors from low-income families pursue a two- or four-year education in any field of study at an accredited college, university, technical or trade school. The purpose of the scholarships is to promote higher education, economic resilience, and stronger communities.
The scholarship program is co-sponsored by the People and Resources Together (PART), a non-profit 501c3 (Tax ID # 68-0416648), DHA and DHHS employees and several advisory groups (Asian and Pacific Islander Caucus, African-American Caucus, Latino Caucus, Lesbian Gay Bisexual Transgender Caucus, and Native American Caucus). Scholarship funds are collected from various fundraising activities held throughout the year – no public dollars are used.
In 2014, impressed by the dedication of county employees to help promising students follow their dream of going to college, Supervisor Serna pledged to match – and exceed – funds raised by employees. Since then, $165,000 in college scholarships have been awarded.