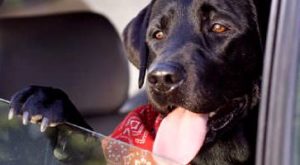 With warmer temperatures and the July Fourth holiday approaching, here are a few reminders to keep your four-legged family members healthy and safe.
Leaving your pet in the car on warm days is never a good idea. On an 85-degree day, the temperature inside a car with the windows opened slightly can quickly reach 102 degrees within 10 minutes. Better yet, leave Fido at home in a cool place with plenty of fresh water.  Read more hot weather pet tips and watch video.
Did you know there is a huge increase in the number of dogs that go missing on the Fourth of July? Many dogs totally stress out over loud noises. And during the Fourth of July you not only have the sounds from the firework displays but cheers from onlookers and excited, screaming children.  Because it's a dog's natural instinct to flee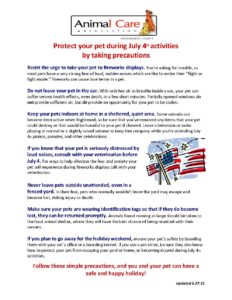 from frightening situations or from what they feel may put them at risk, is exactly the reason why so many dogs go missing during this holiday. Sacramento County Animal Care & Regulation encourages you to follow simple precautions in this sheet.
Wishing you and your pet a happy and safe Fourth of July!