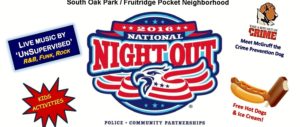 More than 300 people attended my second National Night Out event at Jack Davis Park on August 2. Thanks to our community and law enforcement partners, donors, volunteers, county staff from 11 departments, and most important, the South Oak Park / Fruitridge Pocket neighbors who joined us. Thanks too to 'UnSupervised' for participating and also local elected leaders who came by to greet neighbors, including Congresswoman Doris Matsui, Assemblymember Kevin McCarty, Sacramento County District Attorney Anne Marie Schubert, Sacramento City Councilmember Eric Guerra, Sacramento City Unified School Boardmember Jessie Ryan and SMUD Boardmember Dave Tamayo.
We're extremely grateful to our 2016 sponsors who generously provided delicious food, raffle prizes, and services.  We could not have held this event without you!
Next Move Sacramento - Meal coordination, BBQ chicken, potato salad, chips and more
Sacramento Riverside Blvd. Target - Hot dogs, volunteers, raffle prizes (back packs & gift cards)
St. Paul Missionary Baptist Church - Ice cream and bottled water
Louie's Restaurant - Chow mein, chicken salad
Oak Park Market - Fruit
We look forward to seeing everyone at my third annual National Night Out on August 1, 2017!