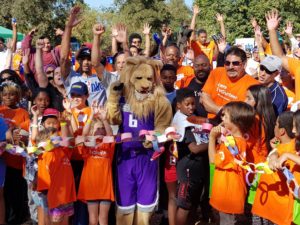 Jack Davis Court is now officially open! In much the same way communities joined together a century ago in a "barn raising," more than 200 volunteers came together on October 14 at Jack Davis Park to build a new KaBOOM! playground and celebrate the completion of a full-size Sacramento Kings basketball court with a ribbon cutting ceremony.
Pulling off this kind of ambitious community effort requires months of planning, from fundraising to volunteer recruitment to preparation of the site. This would not happen without the support of a great many organizations including KaBOOM!, Kaiser Permanente, The Sacramento Kings Foundation, Southgate Parks & Recreation District, area contractors, numerous volunteers and county staff.
It is incredibly rewarding to see Jack Davis Park in the great South Oak Park / Fruitridge Pocket neighborhood finally receive the attention it deserves!
Watch a short video of 'Build Day.'