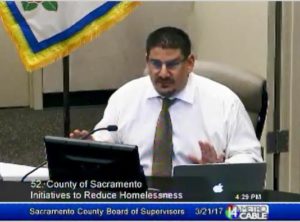 Reducing and preventing homelessness and its harmful effects is a complex challenge communities across the country face. The County of Sacramento is taking this complicated challenge very, very seriously. My colleagues on the Board of Supervisors and I are doing what we can to be thoughtful about how best to bridge gaps in our continuum of care and bolster our ability to help people avoid, and move out of homelessness.
For many months I have been working with our executive staff to bring to the Board of Supervisors a proposal for a county-sponsored, low-barrier homeless triage center that could accommodate those most in need, especially unsheltered individuals who feel their only option is to occupy the American River Parkway. This proposed program will fortify points of entry in our existing homeless service delivery system and add capacity in the form of time-limited shelter with access to intensive services, designed to accommodate pets, partners and possessions, all of it to promote personal stability. This proposal, now referred to as low-barrier Full Service Rehousing Shelter, is one of the four initiatives unanimously approved by the Board on March 21, 2017. They include:
improve the family homelessness sheltering system;
support the strategic use of transitional housing;
establish a low-barrier Full Service Rehousing Shelter, and;
implement a new supportive Rehousing program that will employ intensive case management and Rehousing supports in conjunction with dedicated Public Housing Authority housing resources.
We also voted unanimously to support the Sacramento Housing and Redevelopment Agency's plan to reallocate some housing vouchers to chronically homeless people over the next three years.
Read more about Sacramento County's homelessness reduction initiatives.
View the March 21 Board of Supervisors meeting on your desktop or mobile device.  Click on agenda item # 51 or 52 for materials and to view.