I strongly believe it is possible to provide help and options to individuals experiencing homelessness, whether due to mental health issues, lack of affordable housing, or drug and alcohol dependency, while at the same time protecting the American River Parkway from human and environmental impacts caused by illegal camping.
On Tuesday, July 11, at 10:30 a.m. (Item #71), the Board of Supervisors will consider some very thoughtful and comprehensive strategies to address both the health and safety of the Parkway and respond to the crisis of homelessness in our communities and neighborhoods.
If you feel similarly, please email or call County Board of Supervisors members, attend and sign up to speak at Tuesday's meeting, or submit your comments online prior to the meeting by clicking next to Item #71 on the agenda.  You can also watch the meeting live online or tune into the television government access channel 14.
Please read the following Special to The Sacramento Bee.
——————————————————————————————————–
July 7, 2017
By Phil Serna – Special to the The Sacramento Bee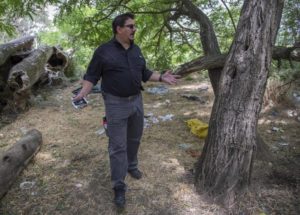 The American River Parkway continues to suffer under the pressure of unsanctioned camping, prompting the Sacramento County Board of Supervisors to consider bold action.
To understand what is at issue, one need only visit the parkway's lower reaches, especially the Woodlake area near the Highway 160 crossing.
I and others regularly see numerous campsites, both occupied and abandoned, with tarps, mattresses and tents. Household garbage is strewn across otherwise pristine habitat and in large piles near campsites and trails. Aggressive dogs roam off-leash around campsites, along hiking trails and on the main asphalt cycling path. There is evidence of fire, such as large burn scars and dead stands of cottonwood, oak and other trees.
There are bicycle "chop shops" with dozens of sorted bike frames and wheels. And there are scattered makeshift latrines, most commonly five-gallon buckets with soiled toilet paper nearby, and hypodermic needles, glass marijuana pipes and other drug paraphernalia.
Unfortunately, this is the "environment" that more and more of us know as the American River Parkway.
On Tuesday, the Board of Supervisors is scheduled to debate adjustments to the county budget so we can achieve a safer, cleaner parkway while reducing impacts of homelessness in adjacent neighborhoods. I hope to hear from my constituents who, like me, believe we can simultaneously express compassion for people in need as well as for the parkway we love.
I have proposed significantly increasing multi-agency staffing, in part a response to past failed deployments and also to complement a set of initiatives the board has adopted to help the homeless. My proposal establishes a series of "beats" along the 23-mile parkway, each with a minimum number of rangers, maintenance workers and animal control personnel. Case managers could also be assigned to these units to offer mental health, veterans and youth services.
In the past, a team of rangers and maintenance staff went location to location along the parkway, leaving areas previously patrolled or cleaned susceptible to reoccupation. For the most part, this was done without social service coordination. It doesn't work and needs to be replaced with something that does.
Some ask the reasonable question: "Where will homeless people go if they vacate parkway campsites?" We can finally respond that they will soon have more shelter and service options.
During recent budget hearings, the board unanimously approved funding for new initiatives to better serve more homeless people, including a new full-service shelter that welcomes pets, partners and possessions, the concerns most often expressed when someone refuses assistance. This first-of- its-kind "low-barrier" option is envisioned as a place for people to stabilize and be introduced to critical mental health and addiction resources.
Together with the reprioritization of 1,755 housing choice vouchers for chronically homeless people and wider availability of permanent supportive and transitional housing, people will have more viable alternatives than to live in the parkway.