Supervisor Phil Serna and Music on a Mission invite you to put on your dancing shoes and join Sacramento's most politically correct band, "UNSUPERVISED!"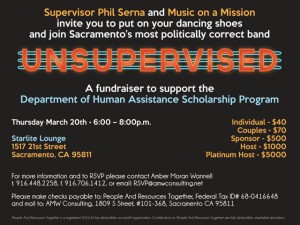 Thursday, March 20, 2014 6:00 – 8:00p.m.
Starlite Lounge, 1517 21st Street. Sacramento, CA 95811
Individual – $40
Couple – $70
Sponsor – $500
Host – $1,000
Platinum Host – $5,000
Proceeds from this fundraiser will go to support the Department of Human Assistance Scholarship Program.
For more information and to RSVP please contact Amber Moran Wannell at RSVP@amwconsulting.net or (916) 448-2258.
Please make checks payable to: People And Resources Together, Federal Tax ID# 68-0416648 and mail to AMW Consulting, 1809 S Street, #101-368, Sacramento, CA 95811
People And Resources Together (PART) is a registered 501(c)3 tax deductible non-profit organization.