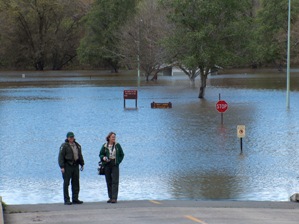 An atmospheric river, a narrow corridor of concentrated moisture known as the "Pineapple Express", is bringing a series of storms into Northern California over the next week, according to the National Weather Service. Area creeks and rivers are rising and flood warnings are being issued in and around the Sacramento region. Sacramento County encourages residents to be storm ready. Visit the Department of Water Resources website for resources and information about flood safety, alerts, sand bag locations and more.
The Department of Regional Parks has also closed areas of the American and Dry Creek Parkways based on predicted rain fall and anticipated river elevations in both the Sacramento and American Rivers.
Do you live in a flood zone? Check www.stormready.org and click on Flood Zone Information.
Flood warnings, frantic sandbag prep as 'atmospheric river' barrels toward California – The Sacramento Bee, January 6, 2017