The voter registration deadline in California is October 19, 2020. All active registered voters in California will be mailed an official ballot automatically beginning the first week of October.
Register to vote online before October 19
OR
Register in person before or on Election Day – Same Day Registration
OR
Already registered? Check your registration status here.
Every voter in Sacramento County will be mailed a Vote by Mail ballot for each election they are qualified to vote in. Voting in person is also available to registered voters of Sacramento County at the Voter Registration and Elections Office beginning 29 days before the election or at a Vote Center beginning 10 days before and through Election Day.  A list of Vote Centers in Sacramento will be published soon. ​Your ballot will come in an envelope that looks like this: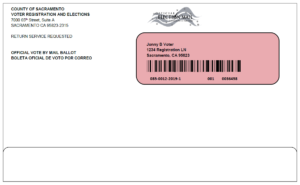 Questions? Visit Sacramento County Voter Registration and Elections Department online for more information; call (916) 875-6155; or email vbm@saccounty.net​.