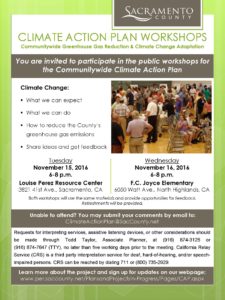 Public participation and input is encouraged to ensure the Climate Action Plan – Communitywide Greenhouse Gas Reduction and Climate Change Adaptation (Communitywide CAP) reflects the needs of Sacramento County.  The Communitywide CAP will include strategies that will both (1) reduce greenhouse gas emissions that are causing climate change, and (2) help the community prepare for and adapt to the effects of climate change.
Tuesday, November 15, 2016
6-8 p.m.
Louise Perez Resource Center
3821 41st Ave., Sacramento, CA
Wednesday, November 16, 2016
6-8 p.m.
F.C. Joyce Elementary
6050 Watt Ave., North Highlands, CA
Visit the Planning and Environmental Review website for more information.