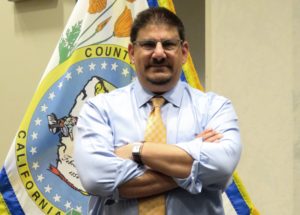 In recent weeks, the local media has covered in considerable detail Sacramento County Sheriff Scott Jones' unfortunate reaction to the Mikel McIntyre "Officer Involved Shooting Review." The review was authored by Sacramento County's independent Inspector General (IG) and former City of Sacramento Police Chief, Rick Braziel. The report's release came after the IG had consulted with both the Sheriff's Department and District Attorney's offices to ensure inter-agency sharing of information had been exhausted, and after the family of Mikel McIntyre filed a wrongful death suit against Sacramento County. The IG also released the review after the Board of Supervisors unanimously and respectfully requested (not demanded) the complete incident review 15 months after the incident occurred. This is all factual, incontrovertible information but it is important that the public draw its own conclusions about the McIntyre officer involved shooting review, which is provided here.
It is extremely unfortunate that Sheriff Jones has decided to react the way he has to what I and others believe is not only a very well-reasoned and fair incident review, but the product of exactly what is expected of our current IG, Rick Braziel. As has been widely reported, Sheriff Jones in response to the IG's incident review, has decided to unilaterally bar Inspector General Braziel from particular county facilities including our jails, and from officer-involved shooting critical incident scenes. In doing so, he has effectively stripped Sacramento County residents' ability to enjoy independent review of incidents in which people are injured or killed. Needless to say, this reflects very badly on the Sheriff's respect (or lack thereof) for government transparency, and the principle of "independent review."
Now, Sheriff Jones has suggested that the Board of Supervisors working with the County CEO's office, and with his approval, adopt a newly worded IG contract scope of services that reflects administratively convenient language suiting him, but ignores the IG's access needs. In fact, an early version of the warmed-over scope indicated that any future IG be barred from running for Sheriff for a designated period of time.
This bizarre and fruitless attempt to pull the wool over the Board's eyes and that of the community finally came to a head on Tuesday, October 30 when thankfully my colleagues unanimously supported my motion to suspend consideration of any revised IG scope of services and instead directed county counsel's office to return in a public hearing setting to explain her response to the question I asked weeks ago: is it even legal for Sheriff Jones to restrict the current IG's access to county facilities and critical incident scenes, and in light of Sheriff Jones' response, what other options does the Board possess besides simply revising the IG scope of services; e.g., subpoena powers, charter revision, Grand Jury intervention, or even a lawsuit? The hearing is scheduled for December 4, posted time TBD.
Finally, please know that I intend to fully support renewal of Inspector General Braziel's contract this November. That said, I will remain very leery of any and all efforts to do so as long as the Sheriff retains the ability (assuming it's even legal) and expresses the position that he exercise unilateral discretion to restrict the existing, or any future IG, from county facilities, from critical incident scenes, and/or from accessing the information and data necessary for the Inspector General to perform his or her job. Know too that I will continue to be outspoken on the subject of transparency as it relates to independent, unbiased and timely reviews of subject matter that is the distinct purview of the Office of Inspector General. I would encourage you to read the linked media reports and editorials below that shed light on my position in this regard.
I encourage you to express your position, especially given Scott Jones' latest unfortunate, and desperate public statements on this matter (see his social media post below). Please let the Sacramento County Board of Supervisors, Sacramento County Sheriff and Sacramento County Chief Executive Officer know your position. Emails for these offices are listed below. Thank you in advance for your activism and willingness to engage on this important subject. Please revisit this webpage in the coming days and weeks to learn more about how to express your concerns in-person on December 4.
Thank you.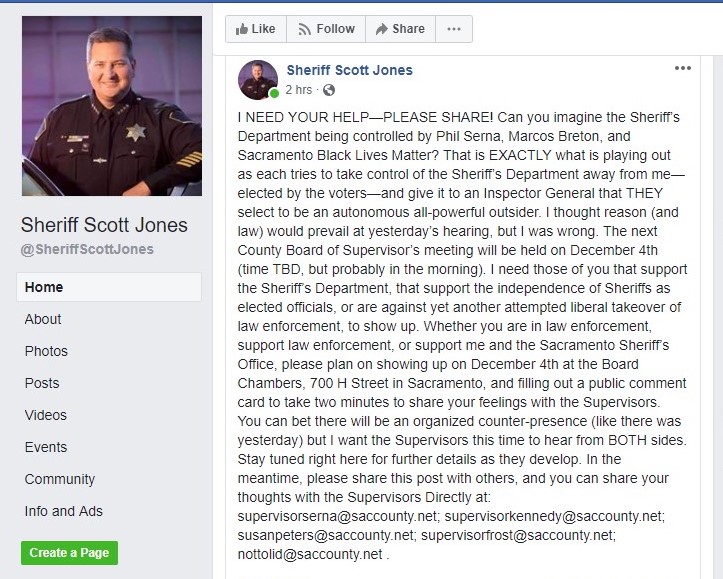 Respectfully,
Phil Serna
Supervisor, First District
SELECT COUNTY EMAIL ADDRESSES
District 1 Supervisor, Phil Serna: supervisorserna@saccounty.net
District 2 Supervisor, Patrick Kennedy: supervisorkennedy@saccounty.net
District 3 Supervisor, Susan Peters: susanpeters@saccounty.net
District 4 Supervisor, Sue Frost: supervisorfrost@saccounty.net
District 5 Supervisor, Don Nottoli: nottolid@saccounty.net
County Sheriff, Scott Jones: sheriff@sacsheriff.com
County CEO, Navdeep Gill: gilln@saccounty.net
MEDIA STORIES
Feud between Sacramento sheriff and inspector general started with a phone call – The Sacramento Bee, December 14, 2018
Thank you, Sheriff Jones. You've given us three valuable gifts – The Sacramento Bee, December 10, 2018
Decency and common sense beat the sheriff – for now – with a vote to keep oversight – The Sacramento Bee, December 5, 2018
Change of heart or political play: Sheriff Jones releases video but public needs to see policy – The Sacramento Bee, December 4, 2018
Protesters Demand Transparency as Sheriff Jones Addresses Board of Supervisors – FOX 40 News, December 4, 2018
Sacramento, time for a gut check. Are you going to stand up to the sheriff? – The Sacramento Bee, December 2, 2018
Opinion – Phil Serna Special to The Bee: Sheriff's Office shouldn't be able to impede inspector general's work – The Sacramento Bee, November 26, 2018
The DA cleared the deputies in a fatal shooting, no surprise. Our acceptance of it is. – The Sacramento Bee, November 26, 2018
Jones wants democracy without transparency. That's not how it works – The Sacramento Bee, November 19, 2018
Sheriff Jones: I'm accountable to voters, not The Bee or politicians – Opinion, The Sacramento Bee, November 6, 2018
Sacramento's sheriff might be deaf to the public, but the Board of Supervisors heard this message loud and clear – The Sacramento Bee, October 31, 2018
Sacramento supervisors delay weakening oversight of sheriff after public pressure mounts – The Sacramento Bee, October 30, 2018
Video: Is the Sheriff acting legally, supervisor asks – The Sacramento Bee, October 30, 2018
Legality of Inspector General's Ousting by Sheriff Scott Jones Questioned – Fox40 News, October 30, 2018
This farce isn't funny. Subpoena the sheriff if justice matters – The Sacramento Bee, October 29, 2018
Sacramento's Scott Jones is a case study of why California should appoint — not elect — sheriffs – The Sacramento Bee, October 29, 2018
Letters: The public has a right to know more about Sheriff Scott Jones – The Sacramento Bee, October 19, 2018
Sheriff gone rogue. Welcome to Sacramento County, where he calls the shots – The Sacramento Bee, October 17, 2018
What's next for inspector general's role? We still don't know after supervisors debate – The Sacramento Bee, October 17, 2018
County Supervisors Reject Sacramento Sheriff Scott Jones' Plan To Change Oversight Of His Department – Capital Public Radio, October 17, 2018
Gustus: We pushed the sheriff to release a video, and pieces were missing. What's in it? Your right to know. – The Sacramento Bee, October 16, 2018
Sheriff Scott Jones prohibits Bee reporter from video-recording interview, then provides altered video – The Sacramento Bee, October 16, 2018
Sheriff Scott Jones says the McIntyre shooting has not led to any changes in policy or training as of yet – The Sacramento Bee, October 16, 2018
Sheriff Scott Jones Can Keep Obstructing Investigations Into Shootings, County Counsel Says – Capital Public Radio, October 15, 2018
Becerra, where are you? Taking on Trump is easy, try confronting a rogue sheriff here – The Sacramento Bee, October 15, 2018
Sacramento sheriff says controversial shooting by deputies 'legal, legally justified and within policy' – The Sacramento Bee, September 11, 2018
In the war over transparency, who's really in charge? Sacramento supervisors or the sheriff? – The Sacramento Bee, September 11, 2018
Board of Supervisors moves to replace Sheriff's department watchdog after lockout – The Sacramento Bee, September 11, 2018
After sheriff locked out Sacramento County watchdog, leaders disagree on future oversight – The Sacramento Bee, September 6, 2018
Special to The Sacramento Bee: Why Sheriff Jones is right on Mikel McIntyre shooting investigation – The Sacramento Bee, September 5, 2018
Who is Rick Braziel? A thorn to Sheriff Jones with a mission to save lives – The Sacramento Bee, September 2, 2019
Sacramento Sheriff Jones clearly hates transparency and oversight. Too bad. It comes with the job – The Sacramento Bee, August 30, 2018
Sacramento sheriff tries to oust independent overseer critical of a department shooting – The Sacramento Bee, August 29, 2018
Sacramento County Sheriff Wants Inspector General Removed Over Officer-Involved Shooting Report – Fox40 News, August 29, 2018
Report: 'Excessive' shots fired in fatal police shooting (Associated Press) – The Sacramento Bee, August 17, 2018
Former PD chief says number of shots fired at McIntyre were unnecessary. Don't underestimate him – The Sacramento Bee, August 16, 2018
Deputies fired 'excessive, unnecessary' rounds in deadly Highway 50 shooting, report finds – The Sacramento Bee, August 15, 2018
Phil Serna: Family and public deserve to know more about Mikel McIntyre's death – The Sacramento Bee, August 2, 2018
Another reason to support police reform. The troubling case of Mikel Laney McIntyre – The Sacramento Bee, July 23, 2018
He threw a rock, deputies shot and killed him. Right or wrong? What is taking so long? – The Sacramento Bee, July 22, 2018
New details lead to more questions in fatal freeway shooting by Sacramento sheriffs – The Sacramento Bee, July 19, 2018
Sheriff's deputies shot her son in the back a year ago. Now she is suing for answers – The Sacramento Bee, June 26, 2018
Mother disputes sheriff's account of rock assault that led deputies to shoot her son – The Sacramento Bee, May 9, 2017